SCOTTY VR

Scotty VR: The Virtual Reality Game That Lets You Experience the World as Your Dog
Have you ever wondered what it would be like to see the world through your dog's eyes? Now you can experience it for yourself with Scotty VR, the new virtual reality game from Visualhawk Solutions Inc. studious.
In Scotty VR, you start out as a little dog with no real world skills, but plenty of energy and enthusiasm. Your goal is to learn the skills that make a great pet, like finding and digging out bones, outwitting butterflies and squirrels, and solving clever puzzles.
As you progress through the game, you'll develop your skills and build your surroundings, creating your own unique space to explore and have fun adventures. From your perspective as a small dog, everything around you looks huge, but nothing is out of reach for the skilled and smart.
The game is designed to be immersive, with stunning graphics and a realistic simulation of what it's like to be a dog in the real world. You'll feel like you're really in your pet's paws, navigating obstacles and exploring the world around you.
But Scotty VR is more than just a game – it's an opportunity to connect with your inner child and experience the world in a whole new way. Whether you're a dog lover or just looking for a fun and engaging way to pass the time, Scotty VR has something for everyone.
So what are you waiting for? Grab your VR headset and join the fun – it's time to be the top dog in your neighborhood with Scotty VR!

NEWS
April 28, 2023
Visualhawk Solutions Inc. in Discussions with NOLO VR to Port Scotty VR Game to Digital Content Platform
Visualhawk Solutions Inc. Studios, the developers of the popular virtual reality game, Scotty VR, have announced that they are in discussions with NOLO VR to port the game to the NOLO digital content platform. The move is expected to significantly expand the reach of Scotty VR and allow even more players to experience the fun and excitement of being a dog in a virtual world.
NOLO VR is a leading provider of digital content and virtual reality platforms, with a growing user base of gamers and technology enthusiasts around the world. By partnering with NOLO VR, Visualhawk Solutions Inc. hopes to tap into this large and engaged audience and offer Scotty VR to a wider range of players.
The porting process is expected to take several months, with both companies working closely together to ensure that the game is optimized for the NOLO VR platform. The goal is to provide a seamless and immersive experience that is faithful to the original game, while taking advantage of the unique features and capabilities of NOLO VR.
Commenting on the partnership, a spokesperson for Visualhawk Solutions Inc. said, "We're thrilled to be working with NOLO VR to bring Scotty VR to even more players around the world. We believe that the NOLO VR platform offers a fantastic opportunity to expand our reach and connect with a new and engaged audience of gamers and technology enthusiasts."
The news has been met with excitement from Scotty VR fans, who have eagerly awaited the game's expansion to new platforms. With its immersive gameplay, stunning graphics, and engaging storyline, Scotty VR is already one of the most popular virtual reality games on the market. And with the addition of NOLO VR, it is set to become even more widely available and accessible.
So if you're a fan of Scotty VR or a virtual reality enthusiast looking for a fun and engaging new experience, be sure to keep an eye out for the game's arrival on the NOLO VR digital content platform in the coming months.

Dec 20, 2022
Breaking News: Scotty VR Game Now Available for Virtual Reality Enthusiasts Worldwide
The long-awaited launch of the Scotty VR game developed by Visualhawk Solutions Inc. studious has finally arrived, and virtual reality enthusiasts around the world can now experience the thrill of navigating the world as a furry friend. Developed by a team of experienced game designers and pet lovers, the Scotty VR game promises to be a game-changer in the world of virtual reality gaming.
The game is designed to provide an immersive and engaging experience that lets players live out their wildest fantasies of being a dog, complete with all the joys and challenges that come with being man's best friend. From finding and digging out bones to outsmarting pesky squirrels and butterflies, players will develop the skills they need to become the top dog in their neighborhood.
Scotty VR is available on Oculus Quest, Quest 2 and Meta Quest Pro. With stunning graphics, realistic physics, and an easy-to-learn interface, players can jump right in and start exploring the world around them.
The game has been praised by beta testers for its addictive gameplay and unique perspective, with one player calling it "the most fun I've had in VR in years." Another said, "I never knew being a dog could be so much fun!"
The launch of Scotty VR marks a significant milestone in the world of virtual reality gaming, with the game setting a new standard for immersive gameplay and cutting-edge technology. So if you're looking for a fun and engaging way to experience the world as a dog, be sure to check out Scotty VR – the game that lets you live out your wildest pet fantasies!
INVESTOR AND PUBLISHER RELATIONS
For investor, publishing or any other business related enquiries.
email: co@scotty.game
Welcome to the investor information page for Scotty VR, the popular virtual reality game developed by Visualhawk Solutions Inc. If you are interested in investing in the future of Scotty VR and helping to take this exciting game to the next level, then you've come to the right place.
Scotty VR is a highly engaging and immersive game that allows players to experience the world from a dog's perspective. With stunning graphics, challenging gameplay, and a fun and engaging storyline, it has quickly become one of the most popular virtual reality games on the market. But we believe that there is still a lot of untapped potential in Scotty VR, and we are looking for investors who share our vision and want to help us bring this game to an even wider audience.
At Visualhawk Solutions Inc., we are committed to developing high-quality games that offer engaging and immersive experiences for players. With our team of experienced developers and designers, we have the expertise and the passion to take Scotty VR to new heights. We are currently exploring a range of new features and gameplay mechanics that we believe will make Scotty VR even more fun and engaging for players, and we are looking for investors who share our enthusiasm and want to be a part of this exciting journey.
Investing in Scotty VR is an opportunity to be a part of a fast-growing industry and to help shape the future of virtual reality gaming. With the continued growth of the VR market and the increasing demand for high-quality content, we believe that Scotty VR has tremendous potential for growth and expansion. By investing in Scotty VR, you will not only be supporting the development of an exciting and innovative game, but you will also be investing in the future of virtual reality gaming as a whole.
If you are interested in investing in Scotty VR and becoming a part of the Visualhawk Solutions Inc. family, we would love to hear from you. Please contact us to learn more about investment opportunities and to discuss how you can help us take Scotty VR to the next level. Thank you for your interest in our game, and we look forward to working with you!
We ARE TAKING VR GAMING TO ANOTHER DIMENSION
Level 1 - The Camp
Welcome to the world seen from the perspective of a dog, explore the camp, learn to move around and navigate the environment. The player will play as the dog Scotty, and move around in the environment to solve puzzles and reach the destination as fast as possible. At the start of a level, Scotty will be given a destination, and has to figure out a way to navigate to said destination. On the way to it, there will be obstacles to avoid and puzzles to solve in order to progress. There will be abilities taught to the player during the tutorial, and will be used to solve puzzles and navigate each level. After gaining the abilities, the player will go through different levels and face different challenges. The time completed will also be posted on a global leaderboard so players can compete with each other.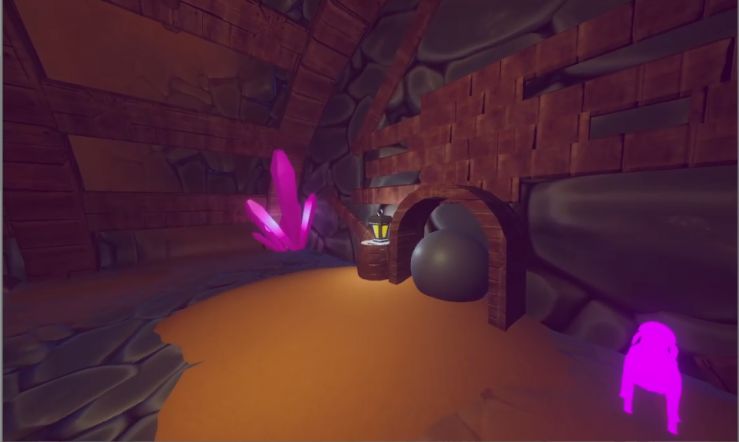 Level 3 - The Mine Shaft
Find your way through the mine, resolve puzzles and collect more treats as you go.
Level 4
Coming Soon...
---